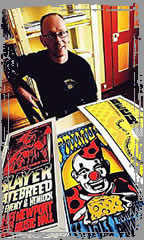 EngineHouse13 was formed in the fall 2000 with the idea to continue to produce limited edition concert art and to keep all involved somewhat sane.
EngineHouse13's brainchild, Mike Martin is a dedicated music lover that cranks out some of today's best and most recognizable limited edition posters and design in the world.
The founding member of EH13 Mike Martin, is the driving force behind the EH13 phenomenon, The creative mastermind and the glue that keeps it all together and running like a well oiled small block! Mike is an avid pop kulture, lowbrow art kollctor and is car freak with an affliction for the kustom and fenderless four wheel wonders.
Now in our 9th year as a fully independent studio, the future is getting brighter and greasier by the day!